Black, Grey and White Group Exhibition
by Kristen Beaulieu, Lonely Ocean Art
REVIEW OF BLACK, GREY AND WHITE INTERNATIONAL GROUP EXHIBITION, CURATED BY REBECCA GEORGE
BY KRISTEN BEAULIEU, LONELY OCEAN ART
MARCH 1, 2021
Achromatic Artwork at The Art House Gallery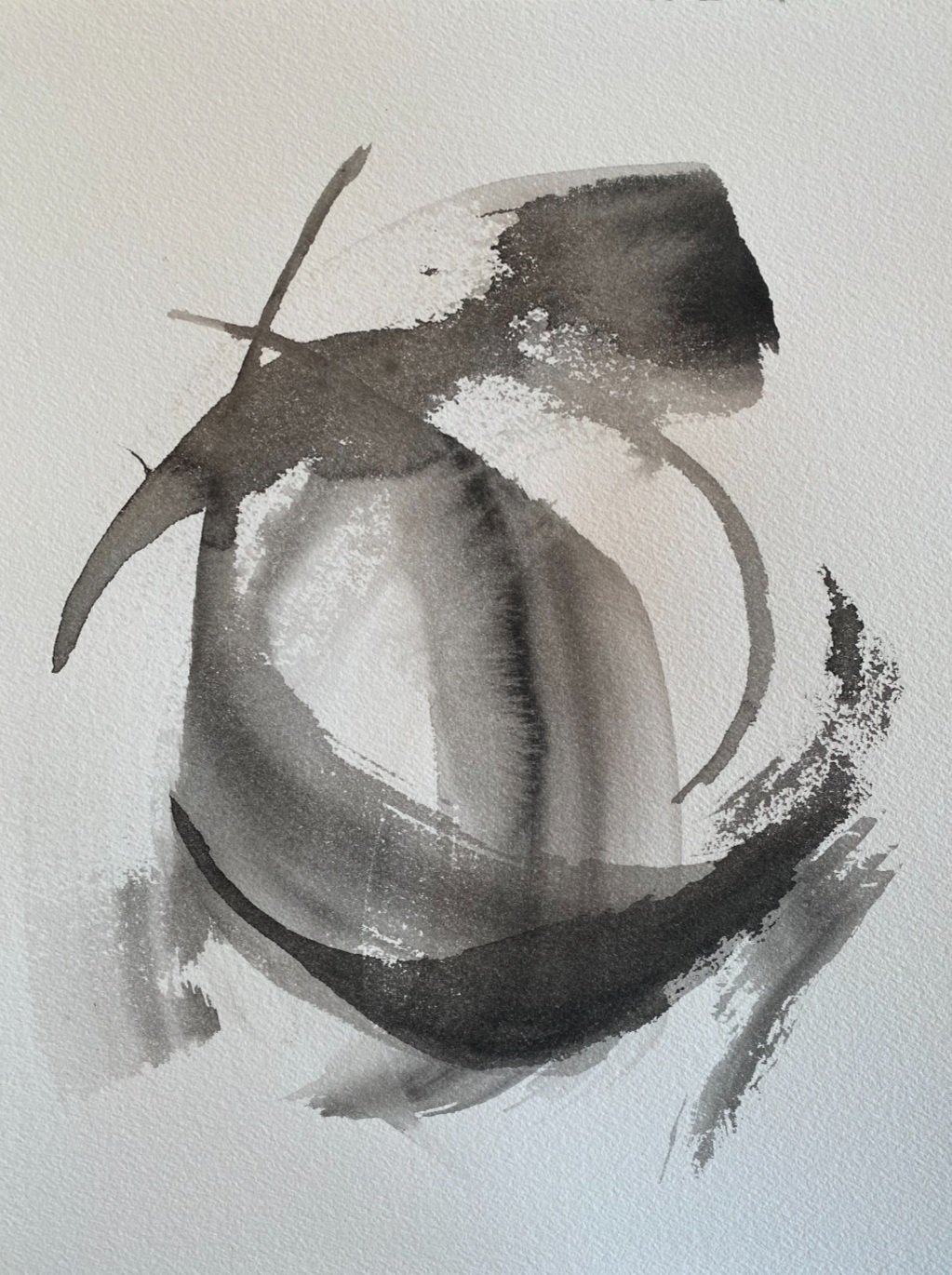 Hannah Seki, Variants of Dark, 2021
Have you ever wondered why black and white photographs have such a timeless appeal? The new international art exhibit Black, Grey and White: In the Achromatic Depths of Tonality and Contrast explores the power and subtlety of artwork without color. Did you know that work created exclusively in black, white and shades of gray is achromatic (without color) rather than monochromatic (which means one color)? Curator Rebecca George explains the appeal of a palette without hue.
The achromatic language is so fascinating — it offers the opportunity to lose yourself in velvety blacks, cool greys, warm whites, surface quality, and other contrasts. I thoroughly enjoyed seeing the harmonious relationships created by the achromatic thread in contrast with the many different materials and approaches in this exhibition. The artists chosen for this show represent a very strong selection of the quality of contemporary work in the world today.

Rebecca George, Curator, Black, Grey and White, 2021
The exploration of an achromatic palette across so many different subjects, media, and styles makes this art show unique. For example, Bryan Grose's modern abstraction, Detroit Steel, is an oil painting on canvas that explores the idea of the the beautiful decay of the industrial Midwest. In terms of style, Grose's work should appeal to admirers of Franz Kline because of the strong gestural brush marks and high contrast.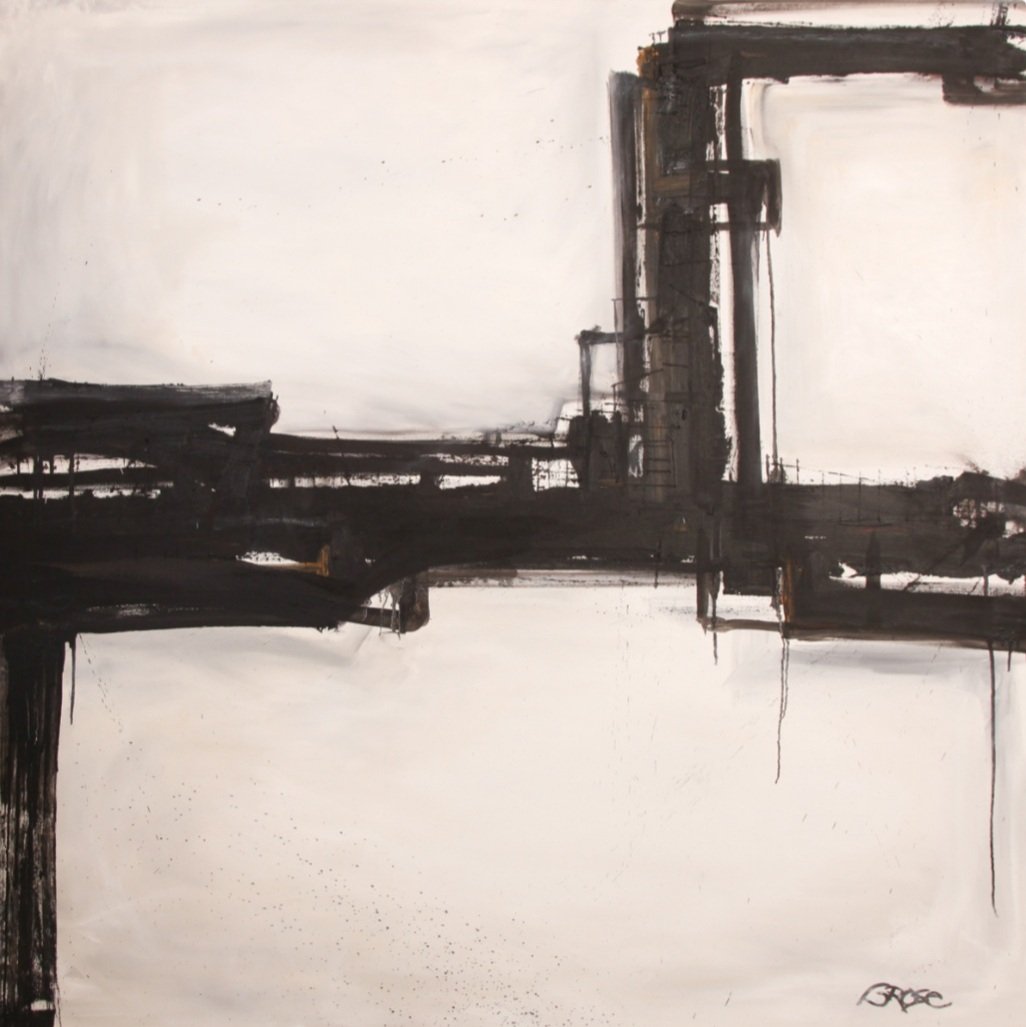 Bryan Grose, Detroit Steel, 2018
On the other hand, Philadelphia-based multi-media artist Francis Beaty's En Route takes a subtle, minimalist approach. This acrylic painting on aluminum sheeting also seems to reference the built environment. But, in contrast to the immediacy of Grose's work, Beaty's painting draws the viewer in to contemplate the subtleties of this black and grey composition.

Francis Beaty, En Route, 2021
Like Beaty, Greek artist George Kapnoulos, builds up the surface texture to catch the light and provide subtle value shifts in an all-black piece called S.Q.S.

George Kapnoulos, S.Q.S., 2020
Moving from the built environment to the natural environment, Let's look at Ronan Tipan's digital photograph of a snowy crossroads in Montana. One wonders if a color in the photograph would distract from the contrast between the stop signs cautioning us to slow down and the wide open spaces beckoning us to wander?

Ronan Tipan, Which Way? (Bozeman, Montana), 2014
Sculptor David Robinson also references nature with Alluvium #4. Alluvium is a word that refers to unconsolidated sediment that has been eroded, reshaped by water in some form, and redeposited in a non-marine setting. Robinson's intriguing ceramic is an amalgamation of symbols of the sea, like mermaid tails and turtle shells, perhaps reminding viewers of a shell collection brought home from the beach.

David Robinson. Alluvium #4. 2020
One last highlight of the show, Mike Coon's Continuum, is a figural abstraction rendered in charcoal on paper, it has a soft, dreamlike quality that is quite nostalgic.

Mike Coon, Continuum (Self Portraits of myself with my mother and grandmother) , 2017
I encourage anyone who likes achromatic artwork to check out Black, Grey and White: In the Achromatic Depths of Tonality and Contrast. The exhibition that showcases outstanding work from contemporary artists working throughout the world including Francis Beaty, Chris Byrnes, Michael Coon, Rebecca Figel, Bryan Grose, Newel Hunter, Rick Hurst, Bryan Jennings, George Kapnoulas, Jackie Kleban, Mishal Abstract Mohan, David Robinson, Hannah Seki, Ronan Tipan, Ginger Ware, and John Woodcock. The exhibition runs the month of March 2021.